A Preview of TinyPilot Cloud
Originally published October 12, 2021
Update: Plans for TinyPilot Cloud are currently paused. See the update below.
One of the most common requests from TinyPilot customers is to access their TinyPilot devices over the Internet. While solutions do exist, they all involve third-party tools that can be difficult to configure.
TinyPilot Cloud
We're working on a service called TinyPilot Cloud that will give you secure, remote access to your TinyPilot device anywhere that you have Internet.
You don't need to tinker with your firewall or adjust your router settings. TinyPilot Cloud "just works" without any configuration changes or software installation.
How it works
We want TinyPilot Cloud to be as easy to use as possible. The screenshots below are a preview of what the service will look like once it's ready.
Adding a device to TinyPilot Cloud
From your TinyPilot web interface, you'll be able to bring up a "Connect to TinyPilot Cloud" dialog.
Clicking "Connect to TinyPilot Cloud" will bring you to your secure TinyPilot Cloud dashboard.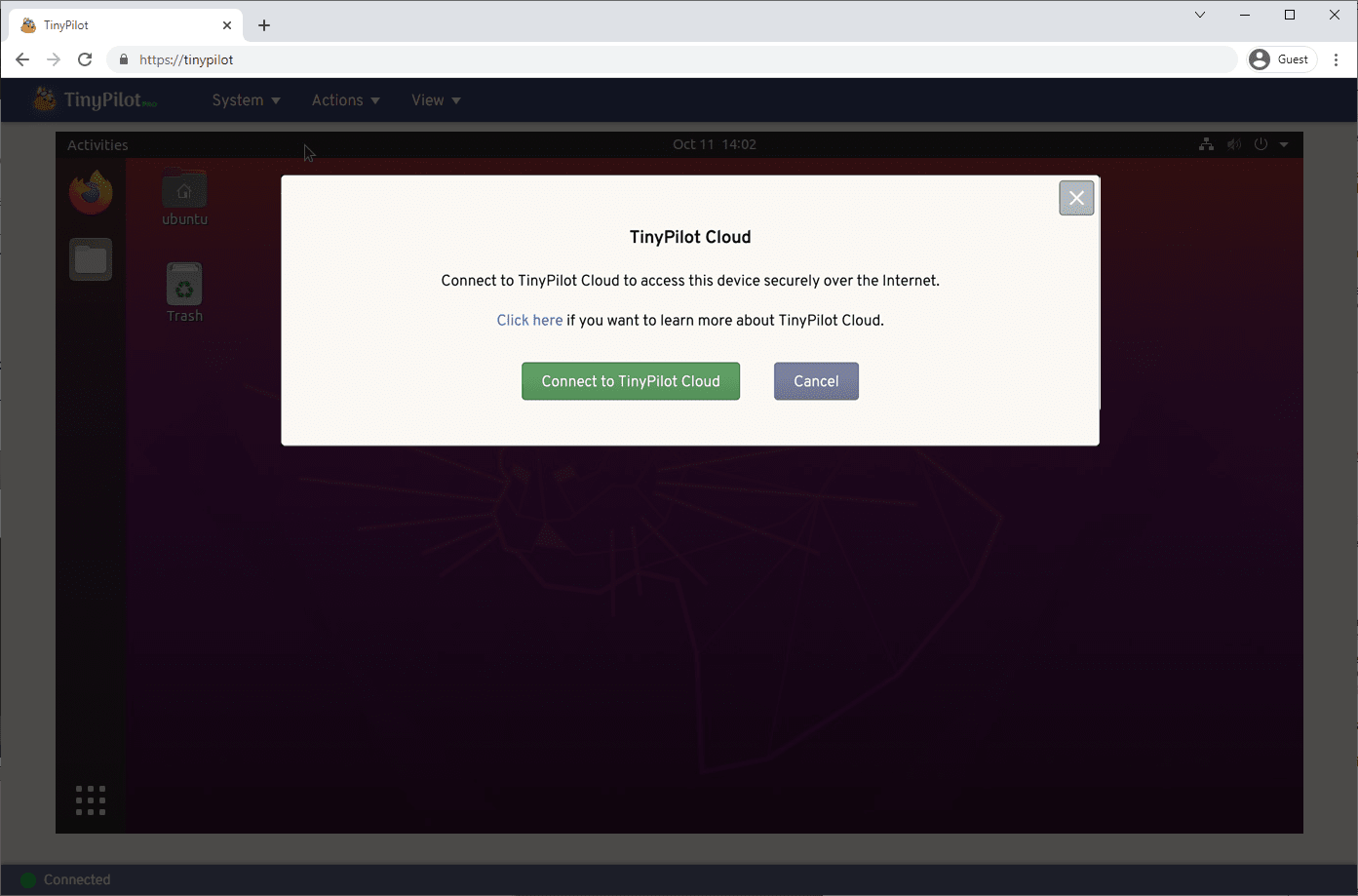 Confirming the device
After clicking "Connect to TinyPilot Cloud," you'll confirm adding the new device to your TinyPilot Cloud dashboard.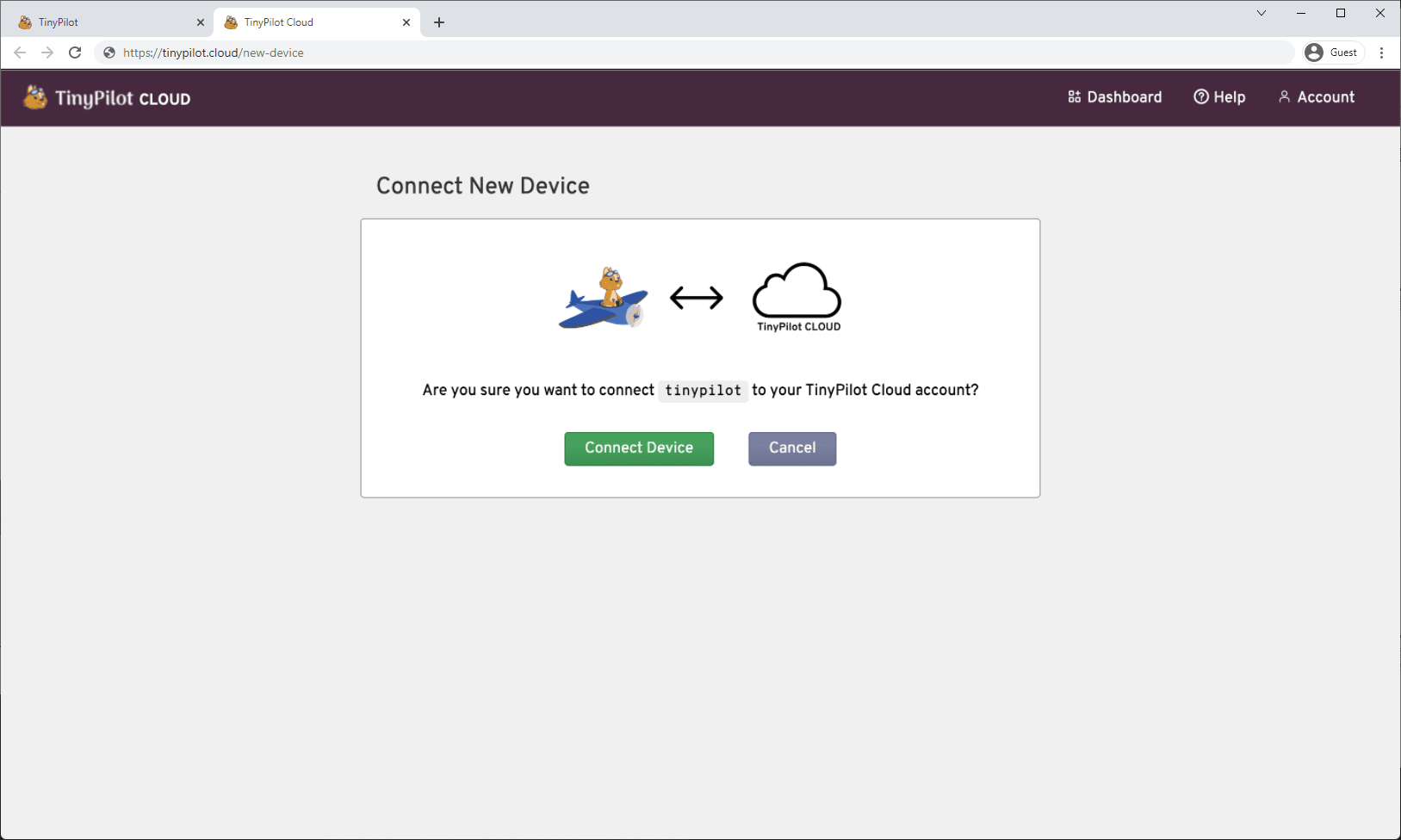 Access all of your TinyPilot devices
Your TinyPilot Cloud account shows you all of the TinyPilot devices you own.
As long as the devices are running and connected to the Internet, you can access them and manage your computers remotely through the TinyPilot Cloud dashboard.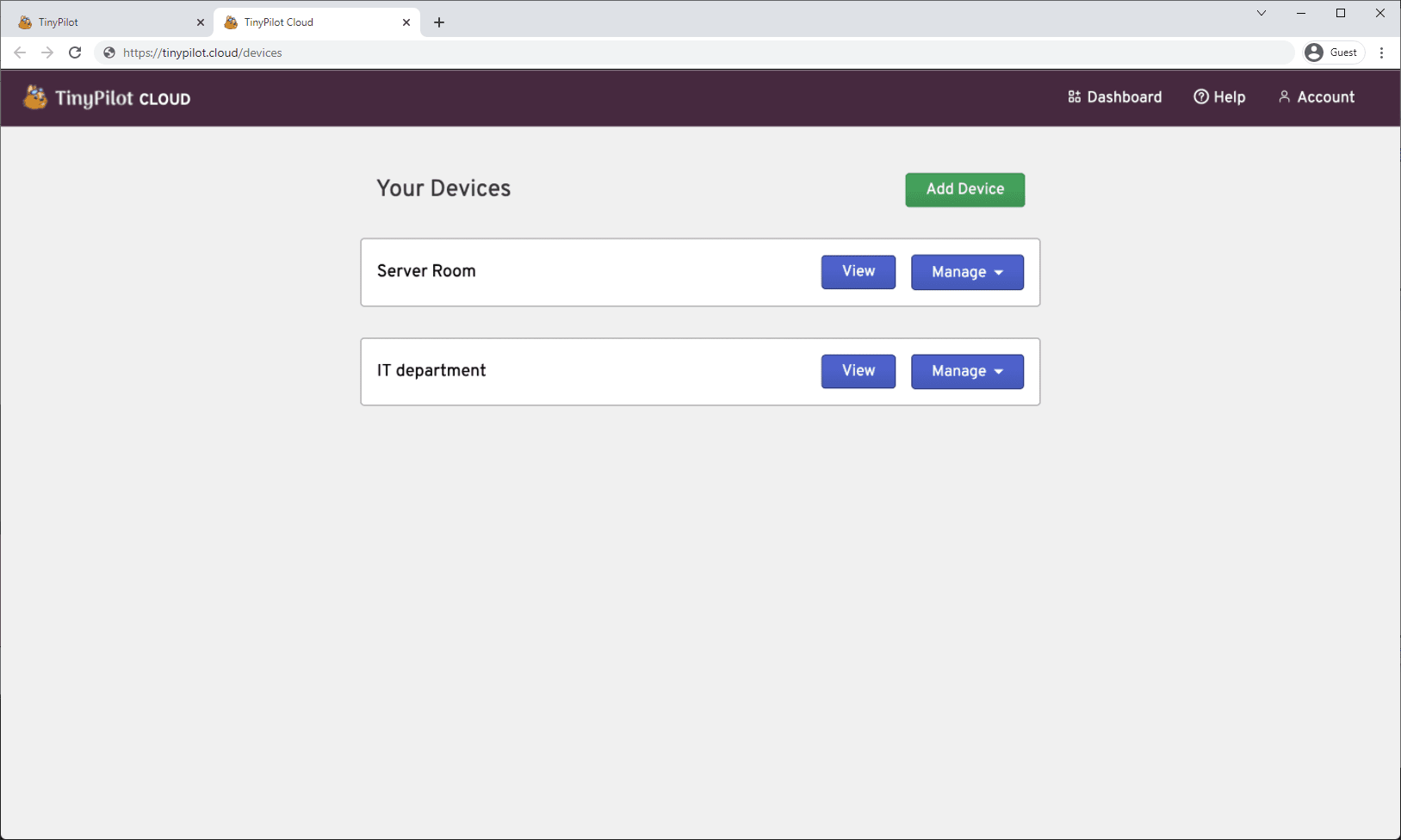 Access TinyPilot via TinyPilot Cloud
Clicking the "View" button for one of your TinyPilot devices brings you to its web interface.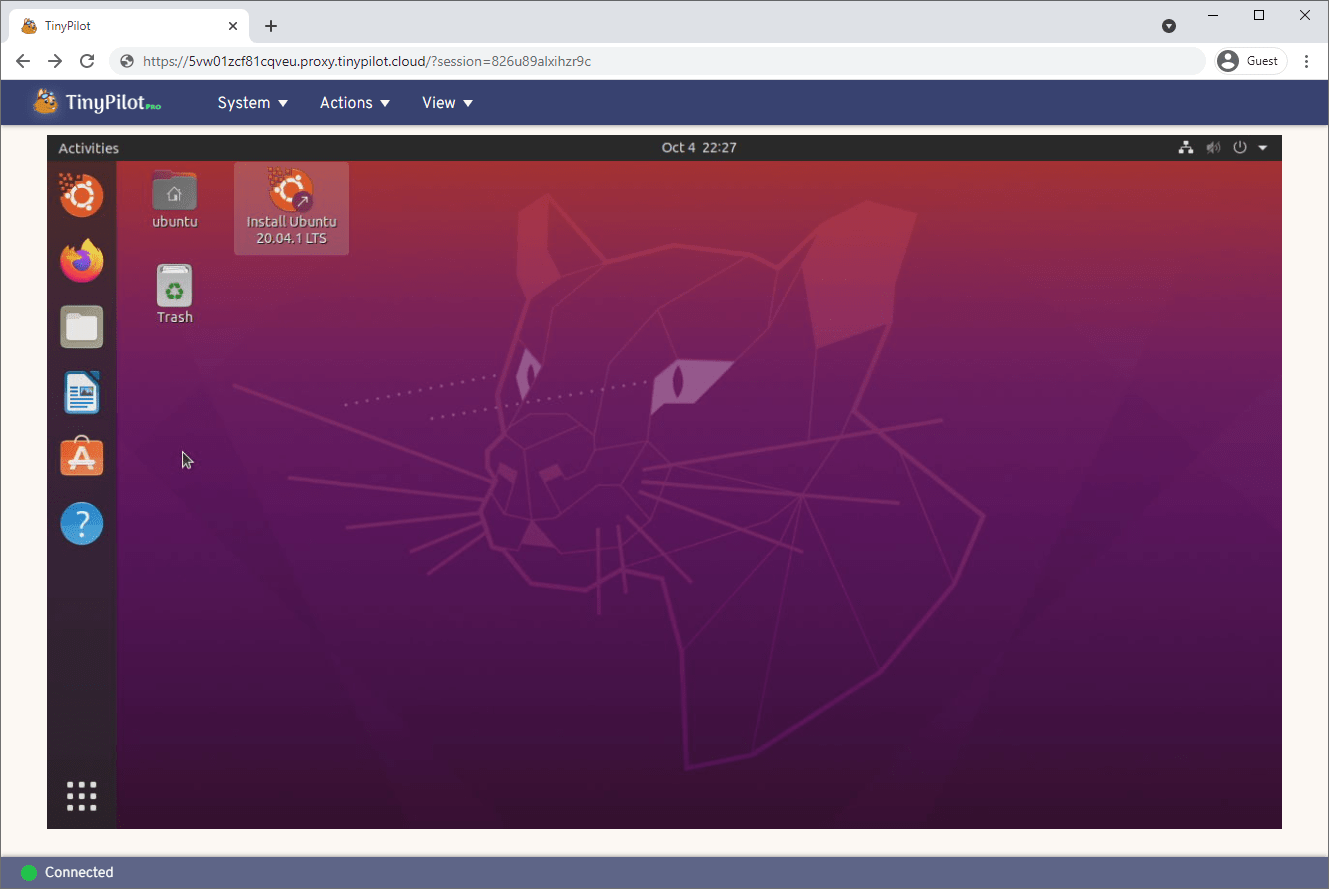 Notice that the URL is not your local TinyPilot device hostname but rather an Internet-accessible URL that grants secure access from your TinyPilot Cloud account.

Cost
TinyPilot Cloud will cost $30/month for up to five TinyPilot devices and $3/month for each additional device.
Want a custom TinyPilot Cloud plan for a large fleet of TinyPilot devices? Contact us, and we'll put together a plan for you.
Update (2023-09-27)
We unfortunately were not able to find enough customers to make TinyPilot Cloud viable.
For customers to rely on TinyPilot Cloud, we would need support staff available every day to monitor the service's availability and respond quickly to any issues. Hiring a team of qualified reliability engineers would require TinyPilot to have a large number of customers paying TinyPilot Cloud's monthly service fees.
Many customers we spoke to saw the value of TinyPilot Cloud, but they found it difficult to justify the price, given the availability of free alternatives that meet their core needs.
We've decided to suspend work on TinyPilot Cloud and focus instead on improving TinyPilot's core product.
Written by Michael Lynch, TinyPilot Founder and CEO