Looking for a user-friendly alternative to PiKVM that's available today? Look no further than the TinyPilot Voyager 2.
PiKVM is a fantastic project that has contributed a great deal to open source and helped TinyPilot get its start.
The TinyPilot Voyager 2 and PiKVM v3 HAT are both KVM over IP devices, but they offer starkly different user experiences. This page explains some of TinyPilot's benefits over PiKVM.
TinyPilot is plug 'n play
PiKVM's v3 HAT is an add-on accessory for the Raspberry Pi. PIKVM customers are responsible for purchasing a Raspberry Pi, finding compatible cables, flashing their own microSD card, and assembling everything themselves.
TinyPilot Voyager 2 ships fully assembled and ready to use. It features a beautiful carbon fiber case and an ultraquiet fan to keep the system cool.
You can plug the Voyager 2 into a server and immediately control it from a web browser with no further setup or configuration.
TinyPilot offers a clear, intuitive user experience
From day one, TinyPilot's focus has been creating a KVM over IP device that treats user experience as a first-class concern. TinyPilot eliminates friction and potential pitfalls at every opportunity.
TinyPilot features a powerful web interface that allows you to control every major feature of your device directly from the browser.
PiKVM has a steeper learning curve than TinyPilot. Many of its features are not available through the web UI and require the user to search online for command-line instructions and manual changes to configuration files.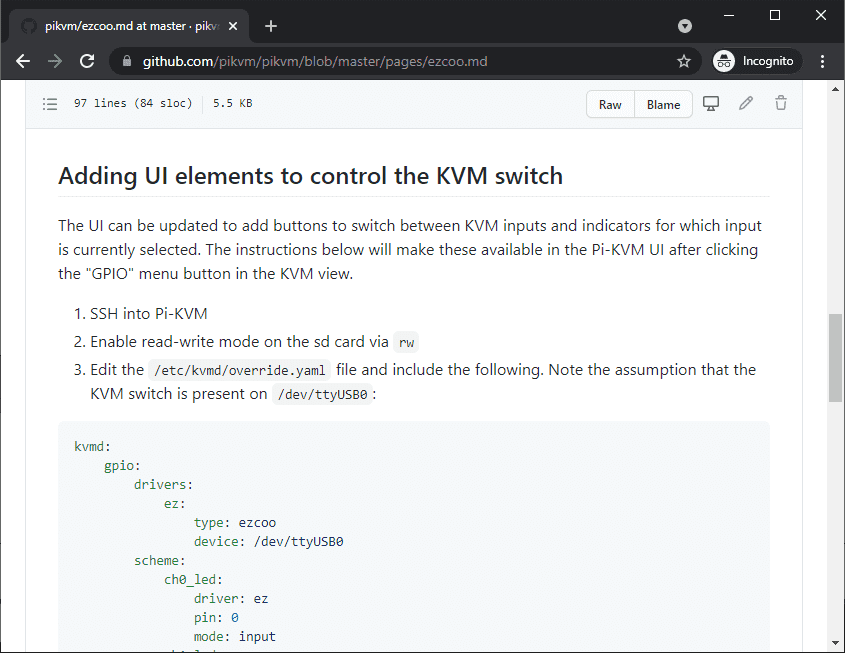 TinyPilot ships immediately
As of December 2021, PiKVM hardware is not available for purchase. PiKVM expects resellers to begin offering the v3 HAT, but no official release date is available.
TinyPilot guarantees shipment within three business days and fulfills most orders in less than 24 hours.
We ship globally from our office in the United States and recently partnered with a distributor in Germany for faster delivery in Europe.
Feature comparison
TinyPilot Voyager 2
PiKVM v3 HAT
Complete KVM solution
✔️
❌
Requires assembly and purchase of third-party hardware
Shipping speed
1-3 business days
2 months or more
Illustrated installation instructions
✔️
Available online
❌
HTML5 interface
✔️
✔️
BIOS-level access
✔️
✔️
Video capture
✔️
✔️
Keyboard capture
✔️
✔️
Mouse capture
✔️
✔️
Full-screen mode
✔️
✔️
Paste from clipboard
✔️
✔️
Password-based authentication
✔️
✔️
Wake-on-LAN
✔️
✔️
VNC support
❌
✔️
Mount virtual drives
✔️
✔️
Serial interface
❌
✔️
Cloud access
✔️
With third-party tools
✔️
With Tailscale
Support
Help forum, Support email
Discord chat
Base OS
Raspberry Pi OS (Debian)
Custom ArchLinux build
Video streaming formats
MJPEG
MJPEG, H264
Video Latency
100-200ms
100-200ms
Video resolution
1920x1080
1920x1080