TinyPilot 1.5.0 Adds Virtual Storage and Bandwidth Tuning
Originally published May 6, 2021
TinyPilot 1.5.0 came out this week, adding several features that let you do more with your TinyPilot device.
Boot into a virtual disk drive
This release enables virtual storage, which means you can upload a disk image to your TinyPilot and then mount it in the remote machine. Your target system will think you inserted a USB flash drive. You can even boot from the virtual disk!
In the demo below, I access a Debian system, upload a Fedora installer disk image to TinyPilot, mount it on the remote machine, and then reboot into the virtual Fedora installer.
Pro feature: The virtual storage feature is available exclusively in TinyPilot Pro, which is included with all TinyPilot hardware packages.
Tune your video stream
Accessing your TinyPilot across the Internet or over a slow network link? This release gives you greater control over TinyPilot's bandwidth.
The new video streaming options allow you to adjust the remote screen's framerate and the compression to optimize performance.

The following demo shows how much you can adjust bandwidth by tuning these settings. When the video starts, TinyPilot is consuming 25 Mbps of bandwidth to send the video stream. By reducing the framerate and increasing compression, bandwidth drops to less than 2 Mbps — low enough to access TinyPilot over a 3G hotspot.
Updating to TinyPilot 1.5.0
You can update to the latest version of TinyPilot by clicking System > Update in the navigation bar: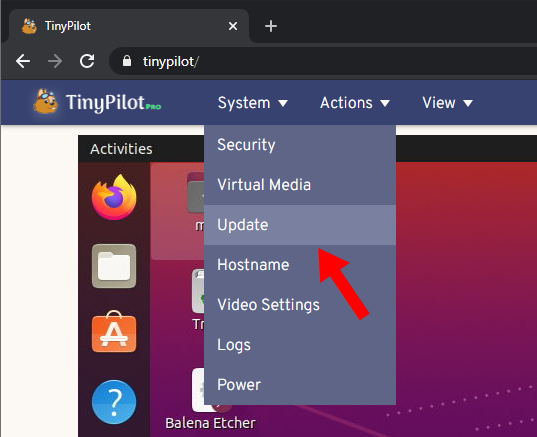 Don't see an update option? For older versions of TinyPilot, SSH into your device and update with the following command:
/opt/tinypilot/scripts/upgrade 

&&

 

sudo

 

reboot
Users of the free, Community Edition of TinyPilot can upgrade to Pro to take advantage of the new virtual disk features.
Written by Michael Lynch, TinyPilot Founder and CEO